wpa_event_data Union Reference
#include <wpa_supplicant.h>
Collaboration diagram for wpa_event_data: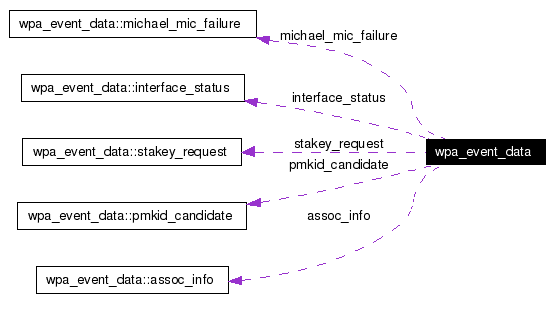 [legend]
---
Detailed Description
union wpa_event_data - Additional data for wpa_supplicant_event() calls

Definition at line 151 of file wpa_supplicant.h.
---
Field Documentation
Data for EVENT_ASSOC and EVENT_ASSOCINFO events.

This structure is optional for EVENT_ASSOC calls and required for EVENT_ASSOCINFO calls. By using EVENT_ASSOC with this data, the driver interface does not need to generate separate EVENT_ASSOCINFO calls.
---
The documentation for this union was generated from the following file:
---
Generated on Sun Dec 31 13:55:57 2006 for wpa_supplicant by

1.4.2